ACES, UHD, HDR and WCG for Colorists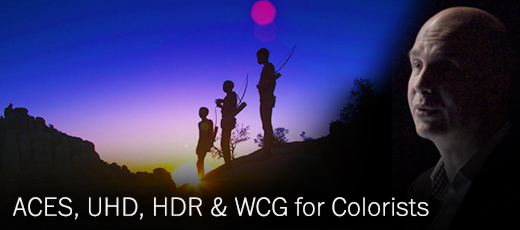 This is a new class designed to introduce new workflows how to grade for them. Ideal for colorists and industry professionals that will encounter ACES, High Dynamic Range (HDR including Dolby Vision), UHD, Rec 2020 and wide color gamut. We look at how grades and looks are affected by these new developments and which tools are most useful to achieve bigger better color. The course content is not system specific but there will be practical sessions and demonstrations using Nucoda FilmMaster and Resolve. Laptop systems are welcome in the class. Participants are encouraged to bring frames or clips to discuss.
The first session covers the theory and practice of the Academy Color Encoding System (ACES) including the use of IDTs and ODTs, how to work within it and why it is so beneficial. The session is followed by a practical workshop. The second session covers HDR, and the various formats including Rec 2084 (PQ) and Dolby Vision. It is also followed by a practical workshop. The concluding session is a discussion on digital cinema and UHD applications followed by a Q & A.
About ICA
The International Colorist Academy (ICA) was established in 2009 to provide "training for Colorists by Colorists". They conduct small group workshops around the world where instructors share their firsthand knowledge of the skills needed to master Color Grading. icolorist.com
Please note: If you purchase tickets for two of Kevin Shaw's Workshops at AbelCine, you will receive $100 off that order. If you purchase tickets for three of Kevin Shaw's Workshops at AbelCine, you will receive $200 off that order. This applies to purchasing classes in multiple AbelCine locations. CSI full members get 10% off and CSI Associate and Alliance members get 5% off. ***Only one discount can apply, they cannot be added together. After you've purchased your tickets, please contact training@abelcine.com for further assistance.
Upcoming In-Person Workshop Dates
04/20
Thursday - Friday, Apr 20th - 21st
Location: AbelCine, New York
ACES, UHD, HDR and WCG for Colorists - NY 04/20-04/21
: $1095
Enroll
Color Chromaticity and Gamut, including BT2020
ACES exr format
ACES input transforms
ACES dynamic range and reference transform
ACES display transforms
ACES grading
ACES workarounds and integration
HDR formats, including PQ, HDR10, Dolby Vision and HLG
HDR grading
Remastering to HDR formats
Tips for working with large files from 4k, HFR etc
This course is an ideal follow up to intermediate classes taught by the ICA and is open to any colorist who has completed such a class or who has at least one year's experience.
Kevin Shaw has been color grading for over 30 years. Based in England, he works all over the world. Recently Kevin has focused on HDR grading and is the European colorist consultant for Dolby. He is also an ACES mentor. Kevin is equally at home working on Features, TV episodic, commercials, music videos and restoration projects. Prior to the software revolution, he was a renowned telecine colorist. In 2009, he co-founded the International Colorist Academy to share his knowledge and experiences with the growing new generation of software colorists and in 2016 he co-founded the Colorist Society International, the first professional representation for colorists.
Film & TV: 180 (2011), Monsters (2010), Streetdance 3D (2010), Transfer (2010), The Wake Wood (2009), How to Change in 9 Weeks (2008), Acolytes (2007), The Omid Djalili Show (S. 2), Coming of Age, 2 Pints of Lager and a Packet of Crisps (2009 Christmas specials)
Commercials: Tikves, Jaguar, Nivea, ICA, Volvo, Danica, IKEA, Levis, Wrangler
Music Video: Ellie Goulding (HDR), George Michael, Seal, Tina Turner, Kylie Minogue