Quick Start for ARRI Cameras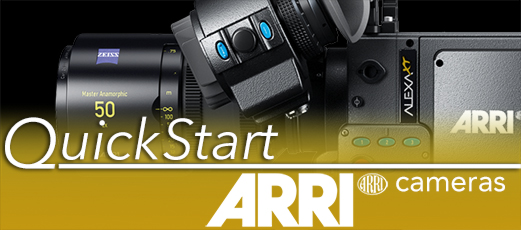 AbelCine's Quick Start for ARRI Cameras gets attendees ready to use these cameras on their next project. The class teaches the fundamentals of prepping and operating ARRI cameras and is designed for ACs or anyone already familiar with basic camera operation.
This half-day, hands-on class covers what to look out for during a rental prep, such as back focus, firmware, and lens mount options, as well as common methods for trouble shooting in the field.
Experienced AbelCine trainers will walk participants through menu operation, project set up, and user buttons. Practical shooting scenarios and configurations will be used to demonstrate workflows from prep to the field to handing media off to post production.
Upcoming In-Person Workshop Dates
This workshop is not scheduled at this time.
Location: TBD
Workshop Bundles
AC 101 + AC 201 Workshop Bundle – New York
Purchase this workshop as part of a bundle at a discounted rate.
Bundle Price
:
$

198.00
Enroll
Custom Training
Custom Camera Training
Schedule a 1-on-1 or group training. We provide custom training at our offices or at your location.
Price
:
From:

$

225.00
Schedule
Overview of the various ALEXA & AMIRA models and functions
Using menus for Project set up including how to:

Set codecs, frame rates, resolution, shutter angle, off-speed recording

Audio Menu
Clip naming
Recalling pre-made looks in camera and choosing particular outputs
User Buttons – Tools for the AC and DP
Jamming the camera with time code for sync sound
Recording to an external recorder
Common accessories
Cabling
Loading firmware
Restoring camera to factory settings
General data workflow
This workshop is designed for camera assistants or anyone who wants to learn how to prepare any Arri ALEXA or AMIRA model for production.
NY
Corey Christian joined the AbelCine team in
2016 as a Camera Technology Specialist based out of the NY office. When he isn't behind a computer, he's usually out testing gear or capturing new perspectives with his drone. Corey is an Avid Media Composer certified editor, and has previously taught Advanced Editing & Cinematography courses in NYC. Behind the camera, he has shot everything from lifestyle and non-profit stories, to destination weddings with his production company, Going Home Productions. Originally from Farmingville, NY, he attended Flagler College in Saint Augustine, FL, where he earned his Bachelor's of Arts degree in Media Production & Cinema and Media Studies. See more of his work: goinghome.co
LA
Ian McCausland is one of AbelCine's Camera Technology Specialists and Trainers. He holds a BA in Film from NYU's Tisch School of the Arts and his credits include the 1999 Black Sabbath concert video The Last Supper and the 2008 Smashing Pumpkins documentary If All Goes Wrong. As one of the original Abel staff members, Ian was integral to the formation of the company's rental department in 1990. In 1997, he reprised his role when he moved out West to launch Abel's Burbank rental department. Follow Ian on Twitter: @IanMcCausland
"This was my first AbelCine workshop, and I was hugely impressed! Absolutely loved it. Ian was a great instructor and I feel like I could do anything I needed to do on the Alexa or Amirra. Awesome!"
"The AbelCine Arri Cameras for the AC class is a great experience! It was an amazing crash course in the Alexa and Amirra cameras and I feel totally comfortable with both cameras. Ian was a great instructor and I can't wait to take another class." -Marcus Patterson, Cinematographer
Related Workshops
An introduction to the heart of the camera, this three-hour class focuses on all the aspects of a camera sensor and exposure. Learn the tools and techniques for proper exposure, and what to look for when selecting a camera. Topics include sensor types, ISO & Gain, Shutter, Resolutions, Aspect Ratios, White balance, and much more.
Devoted to camera inputs and outputs, this class will familiarize participants with the many types of digital and analog video outputs, along with timecode, genlock, remote control, and audio inputs. Demos of different camera systems will help illustrate other topics such as external recorders, SDI specifics, and multi-camera production.
Designed to familiarize participants with the key components used to build a professional motion picture camera system, this class will cover all aspects of camera support. Topics such as routing of electronics, cable connectors, lens design/functionality, and various accessories will also be discussed.
Building on the foundation of Digital AC 101, this class will give participants hands-on experience with building a camera package according to the needs of production, while taking into consideration criteria such as aspect ratio, frame rates, monitoring and codecs. Different scenarios concerning internal and external recording is will also be explained.